When Timing Matters
September 3, 2023
2023-09-11 4:46
When Timing Matters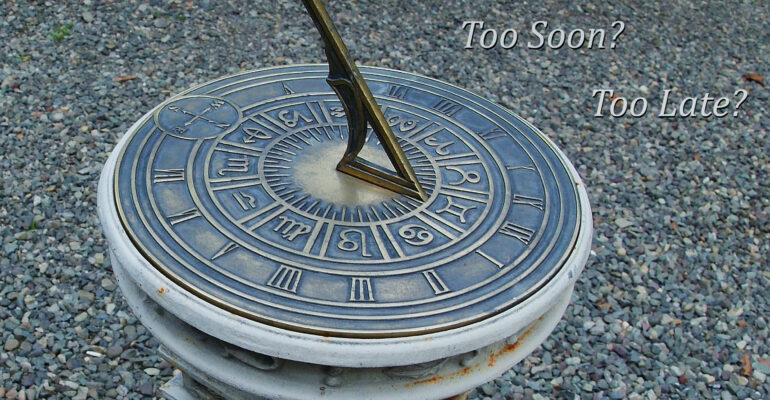 When Timing Matters
Too Soon?  Too Late?  When is the right time to resolve a conflict?
Timing can be critical in the success of a conflict resolution attempt.  But it can be tricky to know when the right time is.
When I was a newlywed my mother-in-law wrote down a collection of her recipes that she knew my husband loved.  It was her thoughtful way of passing along family traditions. The problem for me, was that she cooked by instinct, by feel, and didn't really follow recipes, so when she wrote them down they were often missing key information.  The first time I tried making her famous wedding cookies, I read the directions carefully "bake until just before they turn brown."  Just before they turn brown?  What does that mean?  How long is that?  It took me years of trial and error to figure out that they need to be baked for 45 minutes, which is coincidentally, right before they turn brown.  
Figuring out the right timing for attempting to resolve a conflict can be a lot like baking cookies; try too early and they not ready, wait too long and too much damage is done to salvage.  After a lot of trial and error, you might be able to develop an instinct about when the right time is, but it sure helps to have some instructions to follow.  I can't offer a set recipe to follow, since every conflict is different, but there are some general guidelines to follow that can help you nail the timing.
The sweet spot for conflict resolution is between the time it takes to cool down from the initial conflict emotions and the time it takes for the other party to disconnect from the relationship.  It is in this window that success is most likely.
Wait long enough to cool down.
In highly charged conflicts, particularly with high value relationships, take the time to let strong emotions pass, to consider the core issue of the conflict, to think of possible solutions, and to intentionally and consciously remember why the relationship is important.  You may need to gather information to help you understand the other persons perspective, or to develop a strategy to solve the issues at hand. Take some time to consider what the alternative to a resolution is likely to be.  Consider if that is an outcome that you would be ok with. 
The higher intensity of the conflict, the longer this process might take but don't give yourself or the other person time to settle in to the conflict mode.  If you haven't found a way to diffuse strong emotions within a couple of days, consider enlisting support (maybe professional or faith-oriented counsel) to help you process your feelings.  Choose wisely though, you don't want to create "sides" or involve others in your conflict, so mutual friends, family or colleagues are not recommended.
Act before the other party emotional disconnects from the relationship.
In conflict resolution, time is not always your friend.  Waiting too long to address a conflict can cause people to disconnect and move on emotionally.  After a certain amount of time, they may feel that the effort to find resolution just isn't worth it, they may replace the relationship, or the conflict may have solidified in their minds in such a way that it becomes significantly harder to resolve.
Over time people are more likely to become attached to their own perceptions and point of view, waiting too long can make it much harder for them to see a situation from a different perspective.  If they have rehearsed the conflict in their minds repeatedly, or told the story to others enough, it can be nearly impossible for them break free from their position and move towards resolution.  That's not to say that resolution is impossible after significant time, it just means that it may require much more effort, and even the involvement of a trained neutral third party.
So what is the sweet spot for conflict resolution?
Ideally as soon as the strong emotions have passed, make an attempt to move towards resolution.  In high stakes conflicts that is usually at least a day, although letting the other person know that you value the relationship and will want to work towards resolution within a few hours of the conflict is often a good first step.  In high value relationships, do your best to begin a resolution attempt within the week.  Conflicts that drag on for a month, have a highly likelihood of stretching out for years or remaining unresolved.  If the relationship matters to you, do everything within your power to attempt a resolution within a month.
Esther DeWitt, M.S., CAMS, is a college professor and an organizational psychology practitioner specializing in conflict, emotional management and leadership issues.  She is a Credentialed Mediator and Certified Anger Management Specialist.  Her services include mediation, leadership and organizational consulting and training, anger management coaching, and curriculum and material development.
All rights reserved.  Please do not reproduce without appropriately citing PeaceProf.