4 Apologies that Backfire
September 2, 2023
2023-09-03 18:24
4 Apologies that Backfire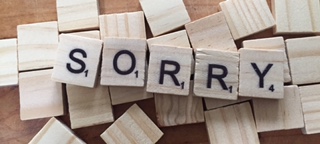 4 Apologies that Backfire
4 Apologies that Backfire
We all have occasions when we should apologize to someone.  It happens.  We do or say something that impacts another person in a negative way, and we know that we owe them an apology.  When our actions have caused damage in a relationship, an apology can go a long way towards repairing it.  But not all apologies are created equal. Some apologies can even backfire and cause more damage to a relationship.  Here are four apology styles that nearly always backfire; avoid them at all costs.
"Sorry." "My bad."
As a child do you remember being told by an adult, maybe a parent or teacher, to say you were sorry to a classmate or sibling?  Even when you didn't mean it, you mumbled out the word "sorry", which satisfied the adult that the issue was settled.  Maybe they even required the other child to say "you're forgiven."  It was an exercise designed to teach and model the process, but usually it only made the adult feel better.   You children were not fooled.
An empty apology has much the same effect as that muttered "sorry."  It comes off as if you are going through the motions, and can seem flip. When the other party is not convinced of the sincerity of an apology, it is not likely to produce the desired results.  In fact, flip sounding empty apologies can end up giving the other person the impression that any inconvenience, damage, or hurt they experienced is being dismissed or diminished by empty words, causing additional damage to the relationship.
"I'm sorry you got hurt, please forgive me." "I apologize that my bluntness offends you, it is not my intent."
Andy Molinsky from the Harvard Business Review, in The Four Types of Ineffective Apologies, describes incomplete apologies as attempts that don't "quite hit the mark."  They fall short of accomplishing the key elements of an effective apology; taking responsibility, expressing regret, asking forgiveness, and committing to attempting to prevent a repeat of the offense.  They may include one or more elements, but something is missing. 
"I'm sorry if you were offended by what I said."  "If anyone was inconvenienced by my delay, I apologize."  "I'm sorry you were upset by what I said."
Jill Geisler, from Loyola University Chicago, describes conditional apologies as those that contain qualifiers; especially the word "if."  These generalized apologies do not take specific responsibility for words or actions and often end up throwing some of the blame back at the other person. They do not express true regret, and qualify that they are directed only to a partial group or under a certain circumstance.
"Regrettably, words were spoken that may have offended some, which should not have happened." "It's a shame that circumstances came together in way that impacted you unfavorably."
Reframing sounds like a non-apology apology.  In the reframed apology, the responsible person minimizes the words or actions, describing them in as neutral a way as possible.  There is a clear lack of specifics, both regarding who was impacted, who is responsible, and what occurred or was said. It is fuzzy and non-descript, dancing around the real issues, and leaving a lot to be desired. 
Often there is a temptation to offer an explanation for our words or actions, instead of owning them, and their impact.  In this version of a reframed apology it can seem as if the blame is being cast in other directions, and be perceived as a denial of responsibility rather than as a sincere attempt to apologize.  Explanations sound like excuses.
The Oxford Dictionary defines an apology as "a regretful acknowledgement of an offence or failure."  They can be incredibly effective in healing and repairing when offered well.  If you are interested in learning more on the subject, I recommend the iTunes University free audio Q&A sessions by Jill Geisler and the short inexpensive audio book The Four Types of Ineffective Apologies by Andy Molinsky.
Esther DeWitt, M.S., CAMS, is an organizational psychology practitioner specializing in conflict, emotional management and leadership issues.  She is a Credentialed Mediator and Certified Anger Management Specialist.  As president of Conflict Navigation, her services include mediation, leadership and organizational consulting and training, anger management coaching, and curriculum and material development.